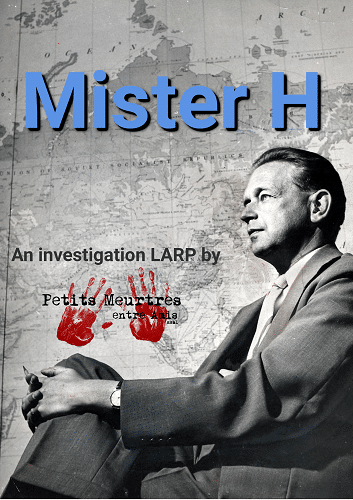 18 september 1961, a few minutes after midnight. The burning wreck of a Douglas DC-6 lies in Rhodesian bush, a few km away from the Congolese border. On board the smoking wreckage, 16 bodies including "Mister H", Dag Hammarskjöld, Secretary General of the UN. This courageous Swedish diplomat was trying to settle the Katanga crisis and consternation strikes the recently-created United Nations at the announcement of his death.
The hopes of an entire continent crumble with his passing. An International Commission is mandated on site to shed light on this accident. But it will not arrive on favorable ground. You are part of it.
Accident ? Diversion? Conspiracy? You will have to disentangle yourself in the traps and lies of Katangese mercenaries, shady agents and other colonial officials hostile to your institution.
In 24 hours, the UN General Assembly will open in New York and the first results are eagerly awaited.
Design document available for download – Friday 17/11/23 till Sunday 19/11/23
Below is the trailer for the French-speaking session hold in February 2022
Date / Heure
Date(s) - vendredi 17 novembre 2023 - dimanche 19 novembre 2023
Toute la journée
Emplacement
Gîte Kaleo
Catégories